Join our team - current vacancies and opportunities
Want to be a part of our dynamic and evolving team? Join us and help us make a difference.
Careers at Cerebral Palsy Cymru
We are Cerebral Palsy Cymru. We are a Welsh children's charity and national Centre of Excellence that provides specialist therapy and support to children and families across Wales living with cerebral palsy. Our mission is to improve the quality of life of all children in Wales living with cerebral palsy. 
About our team
Because we know. Together we can make a difference.
Our Therapy team
Our therapy is provided by our specialist team of physiotherapists, occupational therapists and speech and language therapists who work in a transdisciplinary way so that each baby and child benefits from their combined knowledge and skills.
We currently have 14 therapists who work directly with children and young people from across Wales. Some members of our therapy team have been working with Cerebral Palsy Cymru for over 20 years, whilst others have more recently joined the team, bringing recent experience from working in the NHS.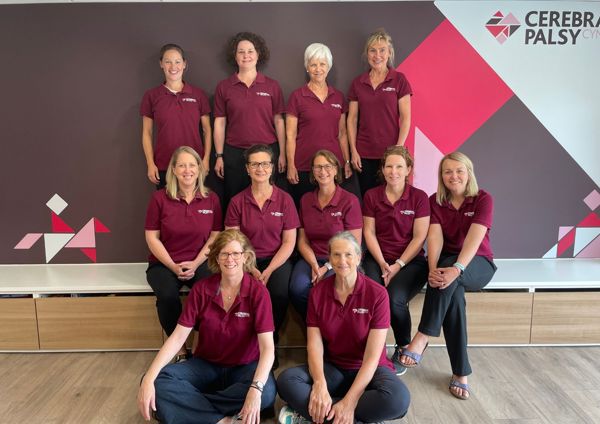 Our Operations team
Our Operations team leads in central areas of our organisation from Finance to IT, HR to Appointments, and everything in-between.
They manage the Reception in our children's centre and provide key support that underpins the work of all the other teams at Cerebral Palsy Cymru, ensuring that the work of the charity is a success. We also have a dedicated Family Support Coordinator who provides practical advice and emotional support to those families who need it.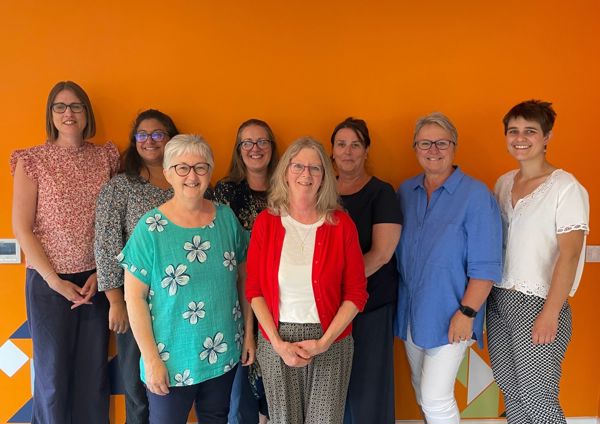 Our Fundraising and Communications team
As a charity, we rely on the generosity of our supporters to ensure we can continue our vital work.
Our Fundraising and Communications team is responsible, along with the Retail team, for raising around 80% of the funding we need each year to deliver our current level of service. We work across the different areas of income generation from Trusts and Legacies, Individual Giving to Community Fundraising, Corporate Partnerships, Events, and Digital fundraising. 
Our Communications team also lead on our charity's brand, marketing, communications and all things digital such as our website and social media channels.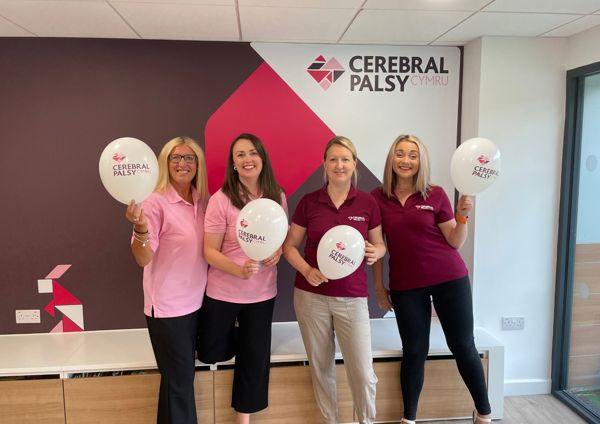 Our Retail team
The retail team are the backbone of our charity shops that help generate a third of our overall fundraised income. Our retail outlets consist of four charity shops across Cardiff and South Wales, and an online charity shop powered by Thriftify.
Our retail team work closely with our enthusiastic team of volunteers who help run our charity shops. It really can be said that no two days are ever the same in the wonderful world of charity retail!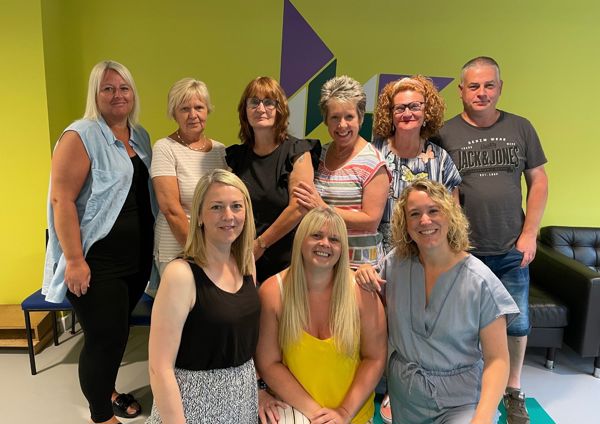 Current vacancies and opportunities
All our current vacancies and opportunities are listed below.
We are constantly evolving as a charity, so please continue to check back regularly and follow us on social media for the latest opportunities to join our team.
Current Vacancies
Speech & Language Therapist
Title of post:          Clinical Specialist Speech and Language Therapist
Hours:                     21.6-36 hours per week (3-5 days)
Contract:                Permanent (probationary period of six months)
Salary:                    Equivalent to NHS Band 7 or 8 payscale dependent on experience
Job Outline: To work as part of our multi-disciplinary team providing specialised assessment and treatment for children, adolescents and young adults with cerebral palsy and allied neurological conditions in accordance with the Bobath Clinical Reasoning Framework (BCRF) and evidence-based practice (EBP).
To develop positive relationships and effective communication with children, adolescents and young adults, their families, carers, local therapists and other professionals to ensure effective intervention and sharing of expertise.
For more information and to apply for this opportunity please see the documents below.
Speech & Language Therapist Job Description
Trustee
Please note: this is an unpaid, voluntary role
We are seeking engaged individuals to join our Board of Trustees.
As we grow our charity and seek to deliver our mission to improve the quality of life of all children in Wales living with cerebral palsy, we are expanding our board to help deliver our mission.
Board members play a key role in the governance of Cerebral Palsy Cymru. Joining us is an opportunity to help our ambitious and passionate Welsh children's charity grow and develop.
For more information and to apply for this opportunity please see the documents below:
Volunteering opportunities
Volunteering at Cerebral Palsy Cymru can be a hugely enjoyable and rewarding experience! Not only will you learn new skills and meet new friends, but you will also be helping us make a life-changing difference to children and families across Wales living with cerebral palsy. 
Volunteering opportunities include: 
Volunteering as part of our retail team in one of our 4 charity shops
Helping us with fundraising events 
Administrative and work experience opportunities at our children's centre in Llanishen 
Assisting our Ecommerce team with our online charity shop powered by Thriftify 
To find out more about our current volunteering opportunities, please click here. 
Employee benefits
Cerebral Palsy Cymru recognises that being a rewarding place to work means more than just a job. Our benefits and the rewards that we offer our team reflect this.
Work-life balance is important to us and so we offer 28 days annual leave per annum, which increases with 5 and then 10 years' continuous service.
Employees are able to opt into our company pension scheme with 5% employer contributions (when matched by the employee) and access to the NHS pension scheme for those eligible.
We have extended maternity pay, and other family-friendly leave initiatives including paternity leave, parental leave, and adoption leave.
We have a number of well-being initiatives across the staff team and encourage employees to take a 'well-being hour' each week.
We support employees who want to request flexible working hours.
We have generous sick pay policies.
We can offer hybrid working opportunities for roles where part home working is possible.
We have car and secure bicycle parking on site.
We have staff development opportunities and have previously funded study opportunities for staff across all teams.
Additional documents
Privacy notice for recruitment 
How we have helped in Wales
126
Family support appointments took place in 2021-2022
331
Children from across Wales have been treated during 2021-2022
1,203
The number of sessions of specialist therapy we delivered in 2021-2022

Therapy and support for children and their families
Cerebral Palsy Cymru is a registered charity in England and Wales 1010183. A company limited by guarantee. Registered company in England and Wales 02691690. Registered address: Cerebral Palsy Cymru, 1 The Courtyard, 73 Ty Glas Avenue, Llanishen, Cardiff, CF14 5DX.