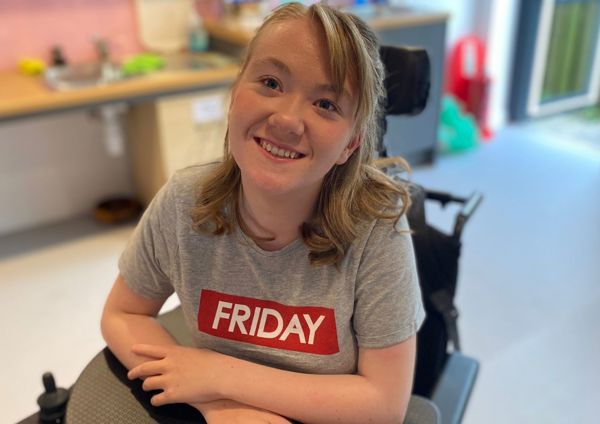 Charlotte's blog
Hi my name is Charlotte and I have just turned 15, I use both my wheelchair and walker to get about. I was very excited when asked if I would like to attend the Independent Living Skills project at Cerebral Palsy Cymru.
As day one approached, I began to feel quite apprehensive, as these sessions were going to be very different to the therapy sessions I had attended in the past. I was also going to be meeting other teenagers with CP, not something I was used to doing!!
On the first morning, I ate my breakfast nervously and got in the car. We arrived at the new centre and what can I say, it was amazing, a lovely bright new reception, manned by a few familiar faces, and fantastic therapy rooms!
We found out that we would be working as a group and individually on everyday goals we wanted to achieve, but we would be doing this without our mums or dads! As a group, we all wanted to work on everyday things and gain more independence, like making and carrying a cup of tea or washing our hair, which might sound easy but for us, it can be quite tricky! Some of us had goals around putting our makeup on more easily and one day we had a visit from Spectrum cosmetics. We were treated to our very own personal makeup lesson, which was fantastic!!!!!
On another day we all ventured out shopping, some of us for the first time. We looked at how we could get there and how we were going to navigate around, some of us with wheelchairs. It was all very exciting as I'm a shopaholic!
Overall this was a fantastic experience and it was lovely to make new friends and chat about some of the things that are difficult for us, that others might not understand, along with achieving goals that make life a little easier. Thank you for helping me gain more independence.

Therapy and support for children and their families
Cerebral Palsy Cymru is a registered charity in England and Wales 1010183. A company limited by guarantee. Registered company in England and Wales 02691690. Registered address: Cerebral Palsy Cymru, 1 The Courtyard, 73 Ty Glas Avenue, Llanishen, Cardiff, CF14 5DX.