Continue the legacy of a special gift that founded our charity.
In the early 1990s, one couple made a special gift that we will always be grateful for; a £30 gift that secured the original premises for Cerebral Palsy Cymru (then known as Bobath Cymru)
This gift was made by Glenys and Bob Evans who, as part of a group of founder parents, were frustrated by having to travel to London for specialist treatment for their children. This frustration led them to make an inspirational pledge to open a specialist centre in Wales. The £30 paid the rent for the next 3 years and the centre opened in 1992.
Continue the legacy
We want to continue the legacy of that special gift and invite you, if you are able, to join the 1992 Club.
We ask you to commit to donating £30+ a month, or £360+ annually to help increase our regular income. This will help secure the charity's future in the same way that that first £30 secured our first premises.
Our ambition for the future is to develop our services so that we can make sure we are there for every baby and child who needs us. This ambitious dream can only be possible with your support. 
By joining our 1992 Club and making a regular gift of £30+ a month, you will be proving us with the stability to plan for the future because we will know that we will have a steady income stream that we can rely on. 
Becoming a member of our 1992 Club
As a small token of our thanks for becoming a member of our 1992 Club, we will send you one of our lovely Cerebral Palsy Cymru greeting cards - we'd love for it to be a way that you help us spread our word even further about our services - and you'll receive regular updates from us about our children and families. 
You will also receive an invitation to an exclusive event every year, as well as a copy of our Annual Review with a personal letter from our Centre Director, Jenny Carroll. 
If you wish to join this special group of people by making an annual gift of £360 or more, please visit our donate to help page to set up a regular donation of £30+ a month. Alternatively, please contact Marie Wood, Director of Fundraising & Communications, on 02920 522600 or email mariew@cerebralpalsycymru.org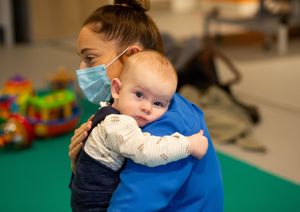 Start making a difference today
If you would like to join our special 1992 Club, please click the button below or contact Emma Brooks, Acting Head of Fundraising, on 02920 522600 / emmab@cerebralpalsycymru.org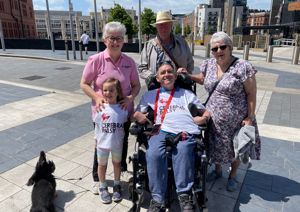 Gleny's story
Glenys Evans, our Family Support Coordinator and one of our founding parents, reflects on our charity's journey over the last 30 years.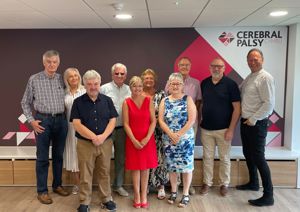 Our founding parents visit our new home
On 22nd July, the families that founded our charity 30 years ago visited our new children's centre to celebrate our 30th Birthday.
How we have helped in Wales
126
Family support appointments took place in 2021-2022
331
Children from across Wales have been treated during 2021-2022
1,203
The number of sessions of specialist therapy we delivered in 2021-2022

Therapy and support for children and their families
Cerebral Palsy Cymru is a registered charity in England and Wales 1010183. A company limited by guarantee. Registered company in England and Wales 02691690. Registered address: Cerebral Palsy Cymru, 1 The Courtyard, 73 Ty Glas Avenue, Llanishen, Cardiff, CF14 5DX.