Cerebral palsy can be classified in many ways, including by function, distribution or type of tone
There are many different classification systems used with children living with cerebral palsy. Some are used to understand the part of the brain damaged and therefore how cerebral palsy may affect a child. This is important in planning therapy that may be helpful.
Others systems are around functional ability levels in certain areas, for example, moving or eating and drinking. These help people to understand a child's skill levels in those areas.
You will find several of these may be used to help describe your child and their abilities. This is done to help everyone involved with your child to understand your child more fully, decide what treatments are likely to be effective and what help they may need.
Below are some of the commonly used classification systems.
Classification by motor subtype of cerebral palsy (Surveillance for Cerebral Palsy Europe (SCPE) version):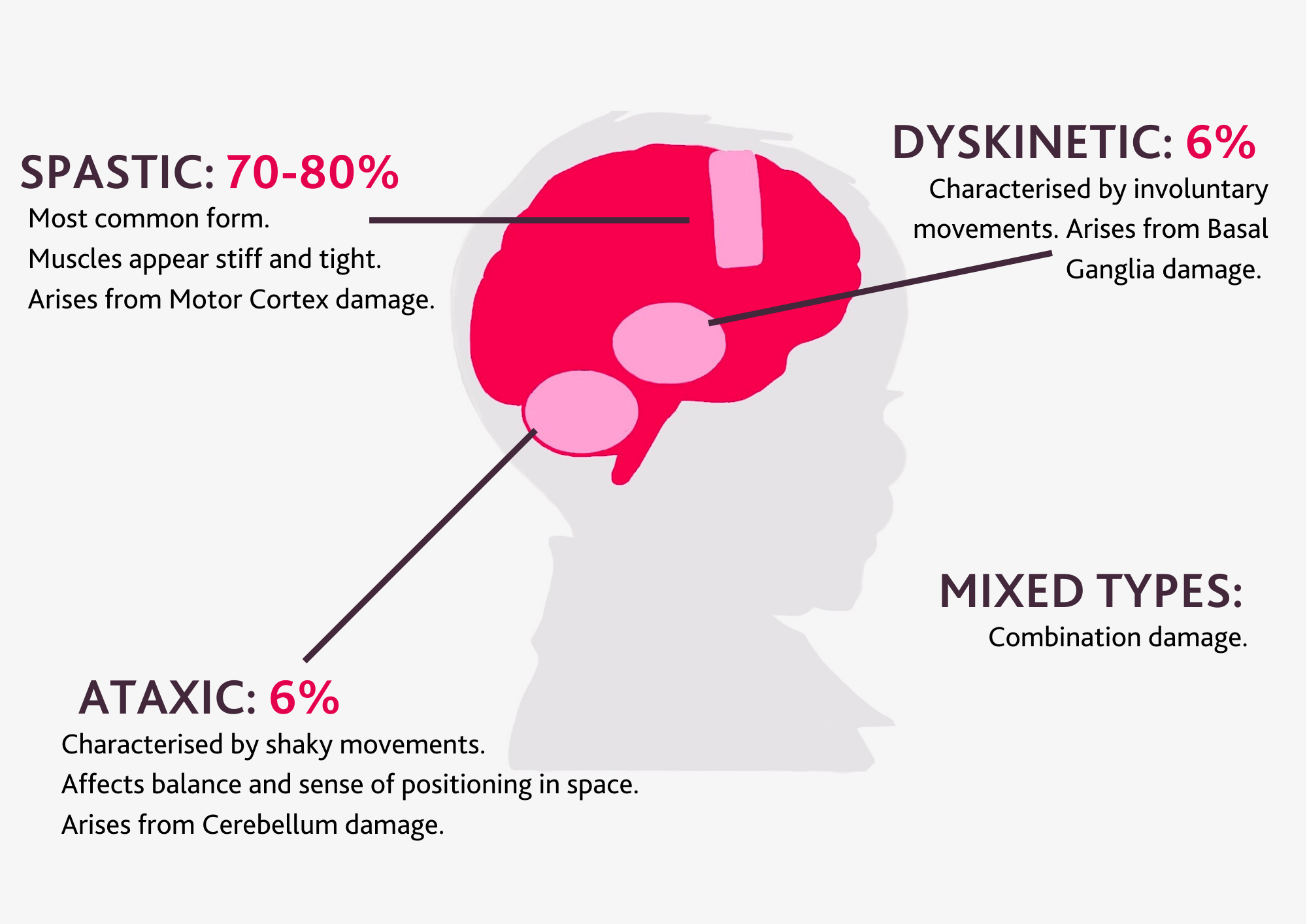 Spastic cerebral palsy
This is the most common form of cerebral palsy. In this type of cerebral palsy, a child's muscles can be stiff and tight (especially when trying to move them quickly), making it difficult to move and reducing the amount of movement possible. Movement is often in stereotyped patterns. This stiffness is not always apparent at first but becomes more noticeable as children begin to move more. The stiffness can be increased with effort and emotion. This type of cerebral palsy arises from damage to the motor cortex. Children born early may show this type of cerebral palsy.
Dyskinetic cerebral palsy
This type of cerebral palsy is characterised by involuntary movements. A child's muscles switch between stiffness and floppiness, causing uncontrolled body movements or spasms. Dyskinetic cerebral palsy can be divided into further sub-types; Dystonic cerebral palsy where fluctuations in tone can be very large and children can get stuck in a posture and appear stiff, and Choreo-Athetoitic cerebral palsy where the fluctuations in tone are less, but still seen as involuntary movements. This involuntary movement can get in the way of the child's planned activities. This type of cerebral palsy is caused by damage to nuclei deep in the brain called the basal ganglia.
The above two motor types can affect both sides of the body and be described as bilateral or one side of the body and be described as unilateral.
Ataxic cerebral palsy
With this type of cerebral palsy, a child has shaky, less coordinated movements. It affects balance, fine motor control and a child's automatic movement and adjustments to posture. This is caused by damage to the cerebellum near the base of the brain.
Mixed
A mixed presentation may occur if more than one area of a child's brain is damaged. Then a child may show a combination of the above motor difficulties.
How we have helped in Wales
126
Family support appointments took place in 2021-2022
331
Children from across Wales have been treated during 2021-2022
1,203
The number of sessions of specialist therapy we delivered in 2021-2022

Therapy and support for children and their families
Cerebral Palsy Cymru is a registered charity in England and Wales 1010183. A company limited by guarantee. Registered company in England and Wales 02691690. Registered address: Cerebral Palsy Cymru, 1 The Courtyard, 73 Ty Glas Avenue, Llanishen, Cardiff, CF14 5DX.