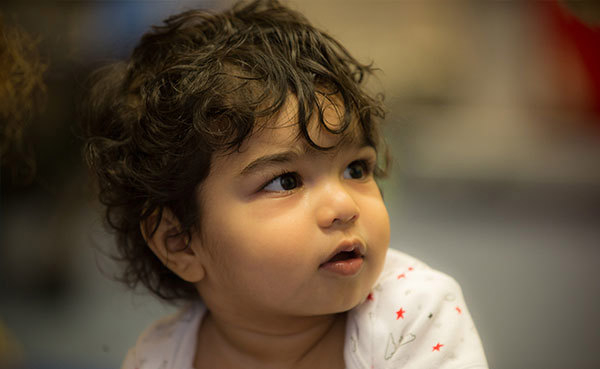 Aman's story
Aman lit up our lives when he was born on Bonfire Night 2015. When he was four months old, just 2 days after my first Mother's Day, we had to take Aman to A&E after he became unwell.
Whilst being reviewed by the doctor, the left side of his body began shaking - he was having a seizure. While the consultant listed all the tests Aman would need- blood tests, CT Scan, lumbar puncture- I couldn't quite believe she was talking about my baby boy. My husband and I stood helplessly as Aman then had a further seizure, after which we noticed he was not moving his left arm or leg - he had suffered a stroke.
No one would commit to the long term effects of what had happened, and we were left feeling lost and uncertain. I had so many questions and it felt like no one would answer.
We self-referred to Cerebral Palsy Cymru after a friend recommended it, something we will be forever grateful for. Aman was seen for an initial assessment when he was 7 months old, after which he was enrolled in the early intervention programme. It was here at Cerebral Palsy Cymru we were first reassured that Aman would walk.
After his first block of therapy Aman was able to sit up unaided, after the second he started crawling on all fours, after his last block he started climbing stairs and now he is walking.
We feel so lucky that Aman was included in Cerebral Palsy Cymru's early intervention programme. It has truly been an all-round positive experience for us and Aman, and it has given us all real hope for the future.

Therapy and support for children and their families
Cerebral Palsy Cymru is a registered charity in England and Wales 1010183. A company limited by guarantee. Registered company in England and Wales 02691690. Registered address: Cerebral Palsy Cymru, 1 The Courtyard, 73 Ty Glas Avenue, Llanishen, Cardiff, CF14 5DX.