The road to the 2021 London Marathon – Tom's story
July 01 2021
Meet Tom Drew, dad to 1-year-old Jake, who will be donning his running vest and taking on the challenge of running the 2021 London Marathon in aid of us on Sunday 3rd October.
We caught up with him to find out more about why he has decided to take on the 26.2 mile challenge and why being able to run the course whilst representing Cerebral Palsy Cymru means the world to him and his family.
Could you tell our readers about your connection with Cerebral Palsy Cymru and your journey with us so far?
Our son Jake was diagnosed with cerebral palsy when he was around 3 months old, which coincided with the start of the first National lockdown.
We came across Cerebral Palsy Cymru whilst searching online and got in touch to see if we could arrange some therapy for Jake. Unfortunately, due to the Coronavirus Crisis, face to face therapy sessions were no longer being provided at that time, and so our journey with the charity started with virtual therapy sessions for Jake.
We received calls and video chats with Dr Sally Jary ( Lead Consultant Therapist for Early Intervention) and Glenys Evans (Family Support Coordinator) who were often joined by our local NHS team. They were brilliant at guiding us through the therapy techniques we needed to do at home to help Jake's development.
When restrictions were lifted and face to face therapy was able to commence once again, we were able to travel from Swansea to meet the team in person. More recently, Jake has enjoyed a number of sessions at the charity's new 'state of the art' Children's Centre in Llanishen, which is such a wonderful facility for families like ours.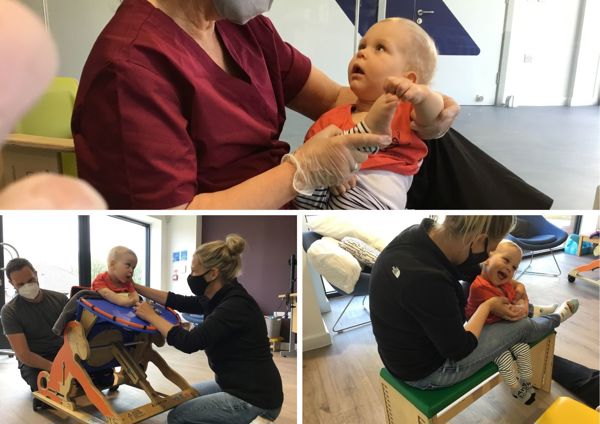 What has the past year been like for you and your family throughout numerous lockdowns, especially as a family with a young child who has cerebral palsy? 
The past year has been tough for us as a family. We left our 5-week stay inside the Neonatal intensive care/Special care unit as the country first began to lockdown back in March. Isolating from this new threat (COVID-19) also meant we were isolated from our friends, family, and support services when we needed them the most.
What were the virtual therapy sessions that you received throughout lockdown like? 
The sessions we received have been extremely valuable to us for both therapy and family support.
My job as an IT manager made me initially useful as the cameraman but I'm now also known for my terrible singing voice during therapy sessions!
Why did you decide to take on the challenge of the London Marathon and how does it feel to be our 2021 London Marathon Runner? 
Over the past year, I have felt so proud of Jake's strength and determination. With this in mind, when I saw the opportunity to run the 2021 London Marathon in aid of Cerebral Palsy Cymru, I felt inspired to challenge myself, get fit and raise money for a wonderful charity. 
Securing a place to run the London Marathon is such a one-off opportunity that I simply couldn't turn it down. It means a lot to me and my family to give something back to you as a charity, as we very much appreciate the support you have provided to our family over the past year, especially during this challenging time. My wife and I discussed taking on this challenge as a team to ensure that the marathon training could be incorporated into an already busy family schedule. As I am not a natural runner, I am having to train extra hard, but I am proud to be raising money for a charity that supports children and families who have been affected by cerebral palsy. 
How is the training going?! 😊 
The training has been going quite well. Apparently, at 34 I'm no longer a teenager and have had a couple of small injuries in the build-up! The intensity and frequency have now increased with just over 13 weeks to go until race day.  Jake has also been enjoying putting in the miles whilst he naps in the running pram!
What will you be thinking about when you are on that starting line? 
I'll be thinking about food - when do I get to eat my energy bars during the race and also about all the things that I can eat in excess again when this is all done! *laughs*
In all seriousness, I know I will feel nervous and excited on the starting line, but I hope the training I put in now will be good preparation for the big day and I can make everyone proud.
Anything else that you would like to say to our readers? 
I'd like to add a special mention to my wife as without all her love and support, I wouldn't be in a position to attempt this amazing event. I would also like to extend a huge thanks to all those that have sponsored me so far - every penny counts and motivates me to train harder!  
Finally, I would also like to thank Cerebral Palsy Cymru for this opportunity, all of their assistance, and brilliant work with our family. 
To visit Tom's fundraising page and make a donation towards his 2021 London Marathon fundraising goal, please visit https://www.justgiving.com/fundraising/run4cpc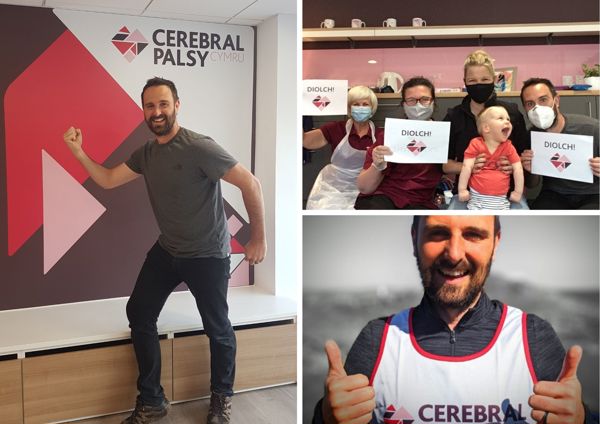 Popular
Upcoming event
Cardiff Half Marathon 2023

Run for team Cerebral Palsy Cymru at the 2023 Cardiff Half Marathon!

Therapy and support for children and their families
Cerebral Palsy Cymru is a registered charity in England and Wales 1010183. A company limited by guarantee. Registered company in England and Wales 02691690. Registered address: Cerebral Palsy Cymru, 1 The Courtyard, 73 Ty Glas Avenue, Llanishen, Cardiff, CF14 5DX.