Our pop-up therapy centre at Bethel Baptist Church Hall
April 07 2021
Whilst the refurbishment has been taking place at our new children's centre, Bethel Baptist Church have provided us with a safe space to host a pop-up therapy centre.
This meant that throughout March we were able to provide 23 families from across Wales the opportunity to have face-to-face therapy sessions at Bethel Church Hall with our specialist therapy team.
As a charity, we have a long standing, positive relationship with the church and they have supported us on numerous occasions. Whenever the weather let us down for our summer fetes, we hosted them last minute in the church hall and it has been the home for our Christmas Market for a number of years.
This is also not the first time that they have supported us as a venue to host therapy sessions. When the extension was being built on our old therapy centre on Park Road in 2001 Bethel offered their space to us to allow us to continue to see children and families. This was invaluable as it meant that children with cerebral palsy did not have go for a long time without receiving any therapy.
Glenys, our Family Support Coordinator and founding parent of the charity, recalls fondly how the relationship between Cerebral Palsy Cymru (formerly Bobath Wales) and Bethel Baptist Church began.
"My family moved to Whitchurch in 1990 when my son Thomas, who has cerebral palsy, was 7 years old, and my husband Bob became the Minister at Bethel Baptist Church. This was the same year that we, together with Paul & Yvonne Lubas decided to try and open a Bobath Centre in Wales. After the charity was launched, we just happened to be offered premises in Park Rd, which was very close to the church (although the centre could have been anywhere in Wales). The church members appreciated that we had a significant role to play in establishing this charity and supported our aims from the beginning. Many of the church members helped with fundraising over many years including when we held our summer fete in the field that part of Velindre Hospital is now built on. Tony Best (known as Tony the fish) visited every week to look after our fish tank and do some gardening, and many others organised concerts and supported us in many ways over the years."
Over 30 years later, we find ourselves once again in a process of great change and are excited at the prospect of moving into our newly renovated children's centre in the very near future.
Unfortunately, due to the Coronavirus crisis, the work on our new children's centre has suffered delays and while we have been able to provide face-to-face therapy, we haven't had a venue that we could use, exclusively and safely, and in line with social distancing rules. Thankfully, Bethel Baptist Church stepped in once again to offer us their space.
Having a designated therapy space has not only allowed us to provide more face-to-face therapy sessions to children and their families, but it has also allowed our therapy staff, the opportunity to work alongside each other again for more than just a few days at a time. Therapists, like Helen, Speech and Language Therapist and Kirsty, Physiotherapist:
"It has been fantastic to be able to access the space at Bethel Baptist Church Hall until our new children's centre is ready" said Helen. "The meeting rooms and hall are just the right size for sessions and are so much better than a re-arranged front room or bedroom at home! We are able to store our toys and equipment there which are then easily accessible for our sessions. As a speech and language therapist, it can be much harder to pick up on subtle communication cues from the children when in a video consultation. Being able to sit and chat in person without having to juggle a phone is invaluable and gives me the opportunity to support our children in their interaction with their parents."
Being given the opportunity to use Bethel Baptist Church Hall to deliver face-to-face therapy to children was like giving us a lifeline" said Kirsty "We have embraced the challenges and advantages of doing virtual sessions and borrowing therapy space in various hospital sites across Wales, but it is so good to be able to see more children and families in person just down the road from where our centre used to be. It is making me even more excited about the prospect of moving into our new children's centre in Llanishen too! We are hugely thankful to Bethel Baptist Church for allowing us to use the Hall.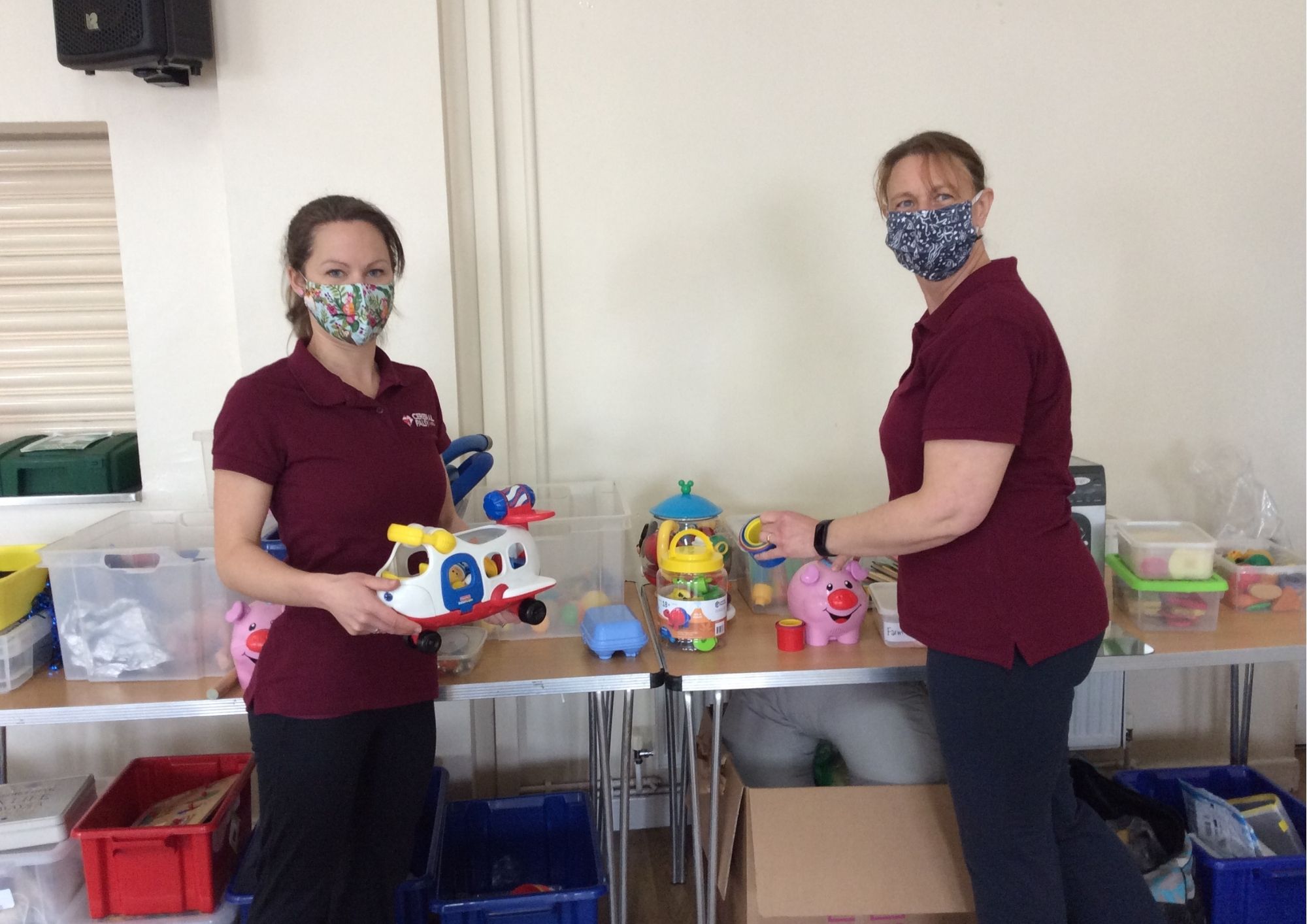 Popular
Upcoming event
Jingle and Mingle

The team at Cerebral Palsy Cymru invites you to join them at their annual 'Jingle and Mingle'

Therapy and support for children and their families
Cerebral Palsy Cymru is a registered charity in England and Wales 1010183. A company limited by guarantee. Registered company in England and Wales 02691690. Registered address: Cerebral Palsy Cymru, 1 The Courtyard, 73 Ty Glas Avenue, Llanishen, Cardiff, CF14 5DX.