Our name in lights thanks to Niche Financial Services
February 23 2021
We are thrilled to announce our partnership with Niche, an award-winning firm who provide independent, fixed fee financial advice with a focus on lifetime financial planning.
Based in Newport, the company have kindly decided to support us as a charity by donating some advertising space on their digital billboard, which is fixed to the side of their head office overlooking the M4 motorway next to the Brynglas Tunnels. We are sure this spot is very familiar to our families and supporters who travel along the M4 in South Wales!
According to statistics, nearly 3.3 million vehicles pass Niche's digital billboard every month, making it one of the highest reaching in the country. Niche aim to use this unique location to help local businesses, charities, and events shout about the good work they do.
Advertising on a premium billboard is a luxury that so many charities simply can't afford so we were thrilled when Joseph, Marketing Director for Niche, approached our charity with this generous offer of support.
We're very fortunate to have this incredibly unique location overlooking the M4 motorway next to the Brynglas Tunnels, which allows us to use our digital billboard as a platform to really showcase local charities such as Cerebral Palsy Cymru. The purpose of the digital billboard is to help local businesses, charities and events shout about the good work they do, and we certainly hope we are able to help support more Cerebral Palsy Cyrmu campaigns in the future, especially during this challenging time.
Cerebral Palsy Cymru's Marketing and Communications Officer, Emily Anthony, was absolutely delighted when she visited the Niche offices in Newport to see their advertisement lit up on the 32sqm digital billboard for everyone to see.
"It was so exciting to see. We rebranded from Bobath Children's Therapy Centre Wales to Cerebral Palsy Cymru back in May 2020 during the Coronavirus Pandemic and one of the main reasons for the rebrand was to ensure that we are easily found by families living with cerebral palsy in Wales. Seeing our new brand and logo displayed on this billboard and knowing that so many families will see it as they pass, and perhaps one of those families is a family living with cerebral palsy who might need to access our specialist services and support, is very powerful and so important. We would like to thank Niche for their support, and we look forward to continuing our partnership in the future."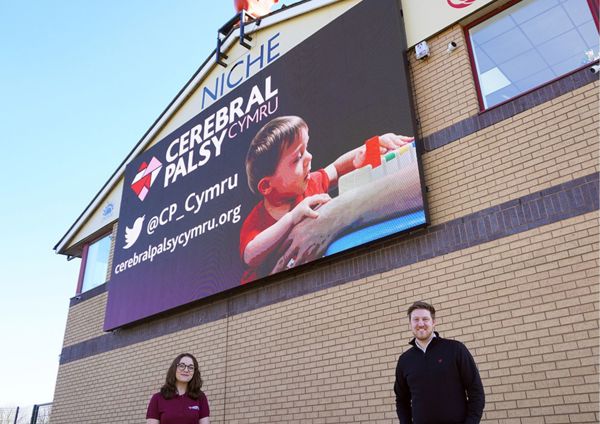 Popular
Upcoming event
Cardiff Half Marathon 2023

Run for team Cerebral Palsy Cymru at the 2023 Cardiff Half Marathon!

Therapy and support for children and their families
Cerebral Palsy Cymru is a registered charity in England and Wales 1010183. A company limited by guarantee. Registered company in England and Wales 02691690. Registered address: Cerebral Palsy Cymru, 1 The Courtyard, 73 Ty Glas Avenue, Llanishen, Cardiff, CF14 5DX.