Oliver and Lexi's epic charity challenge!
July 02 2020
Meet Oliver and Lexi - two incredibly brave children who rose to the challenge and became 'Charity Challengers' in aid of Global's Make Some Noise Emergency Appeal.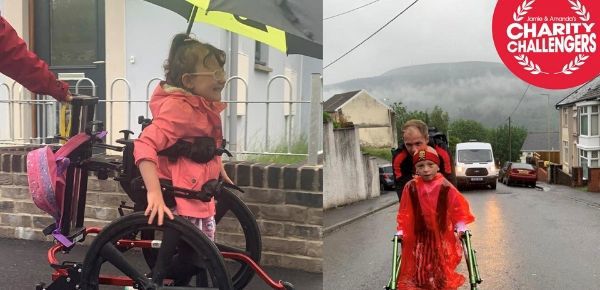 During the month of June, radio stations from the Global family (Capital, Heart, Classic FM, Smooth, LBC, Radio X and Gold) launched an Emergency Appeal to raise money for the small charities that have been hit hardest by Coronavirus. We were delighted that  Cerebral Palsy Cymru was  one of 22 charities, across the UK, selected to take part in the campaign and benefit from the generosity of  radio listeners. 
As part of the Emergency Appeal, Heart FM Breakfast hosts Amanda Holden (Britain's Got Talent) and Jamie Theakston (Top of the Pops) assembled 'Jamie and Amanda's Charity Challengers' – a team of incredible people doing incredible things to raise money for the Emergency Appeal. 
Lexi (aged 4) and Oliver (aged 8), who both have cerebral palsy, were the youngest charity challengers to take on their challenges LIVE on Heart Breakfast Show and the only Charity Challengers to represent Wales. 
For her challenge, Lexi decided to replicate a challenge she had previously done for the 2.6 challenge and took on a 3km walk accompanied by her mum, Natasha, around her local park in Ystradgynlais. Oliver, accompanied by his dad, Ryan, and family friend, Adrian, decided to push himself even further than his previous 2.6 challenge and walked 6 miles, in total, up to the top of a mountain near his home in Mountain Ash - and back again! 
Although the weather looked promising throughout the week, when it came to the morning of the challenge on 18th June, it took a turn for the worse and the rain decided to make an appearance. . Never the less, our 2 brave challengers donned their raincoats and ponchos and set off early in the morning, accompanied by a producer from Heart FM, to complete their challenges live on air. 
Oliver was the first to leave the house, setting off at 7am to ensure that he had enough time to complete his epic climb by the end of the breakfast show at 10am. 
Oliver's dad, Ryan, said: "If it wasn't for Cerebral Palsy Cymru we believe as a family that Oliver would never have walked, would never have done anything that he's done in life. He has started to play football now, which, as a dad to be able to play football with your son, is just such a wonderful thing. Without Cerebral Palsy Cymru we believe he never would have achieved that type of thing."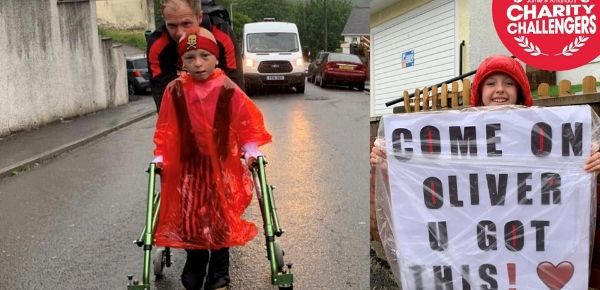 The rain showed no sign of letting up at 8am when it was Lexi's turn to set off, so her mum, Natasha, fixed the biggest umbrella she could find to Lexi's walker, put on her pretty pink raincoat and they set off with smiles on their faces to start  their 3km walk. 
Both Lexi and Oliver completed their challenges live on the Heart Breakfast show, cheered on by supportive messages from the listeners across the country and regular phone in updates from Amanda and Jamie who were following their progress from the studio in London. 
"You are both heroes" Amanda told Lexi and Oliver, "hopefully you'll raise lots of money – Jamie and I are very proud of you both."  
Over the course of a week, the Emergency Appeal from Global's Make Some Noise raised a fantastic £1.7M which will be distributed amongst the charities selected to take part in the campaign. 
"I couldn't be prouder of what Oliver and Lexi have achieved." said Emily Anthony, Marketing and Communications Officer at Cerebral Palsy Cymru. "These two little superstars battled the wind and the rain to complete their challenges and they both did it with big smiles on their faces. They are shining examples of the determination and positivity that we see in the children who attend our therapy centre and I would personally like to say a huge thank you to Lexi and Oliver for taking on the challenge and being excellent representatives of Cerebral Palsy Cymru."
Popular
Upcoming event
Cardiff Half Marathon 2023

Run for team Cerebral Palsy Cymru at the 2023 Cardiff Half Marathon!

Therapy and support for children and their families
Cerebral Palsy Cymru is a registered charity in England and Wales 1010183. A company limited by guarantee. Registered company in England and Wales 02691690. Registered address: Cerebral Palsy Cymru, 1 The Courtyard, 73 Ty Glas Avenue, Llanishen, Cardiff, CF14 5DX.