Celebrating our long-standing partnership with Harding Evans Solicitors
July 06 2022
As we celebrate our 30th year, we would like to celebrate the loyal support of Harding Evans Solicitors.
We are thrilled to take this opportunity to celebrate and send our warmest thanks to our friends at Harding Evans Solicitors, who have recently made a wonderful gift to us of just over £13,000 to help support our vital work in making a difference to children and families across Wales living with cerebral palsy. 
The team at Harding Evans have been supporting us in a multitude of ways for almost 20 years. As we celebrate our 30th birthday year and look forward to the next stages of our journey as a charity, we are so grateful that they continue to offer their kindest support.
Along with making several large gifts over the years, the team have joined in many of our fundraising activities, including competing in dragon boat racing, running London Marathons, attending our ladies' event 'A Question of Women', and rolling up their sleeves to make cakes for our baking campaigns. 
Most recently, the team lent their support to our Cake & Tea for CP campaign in May which raised just shy of £6,000. They also sent a wonderful group of enthusiastic volunteers to steward at our 30th Birthday Bayside Walk! We had an amazing day celebrating our milestone birthday and the stewards' enthusiasm and encouragement really spurred our walkers on!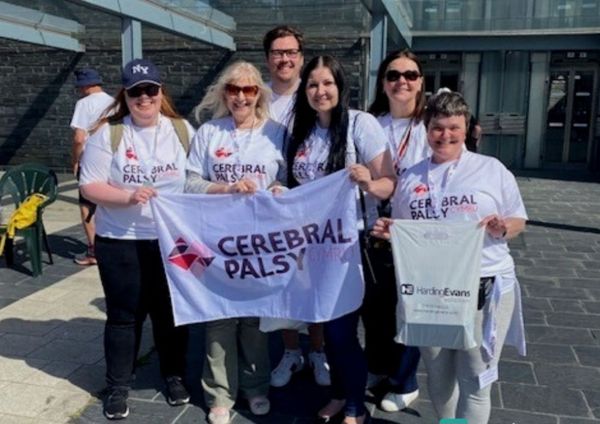 Claire Walker, our Corporate Relationship Manager, was recently able to show Ken, Sara and Jon from the Harding Evans team around our new children's centre in Llanishen.
Being able to show our long-standing supporters from the business world around our new home has really been a wonderful experience, especially those who are so steeped in our history. I am so glad that when we moved everything out of our Whitchurch home, we were able to take so many of our incredible supporters with us too. It is such a pleasure working with the team from Harding Evans who are always so kind and supportive of the work that we do for the children that need us. Thank you for this amazing gift and for being part of our continued journey."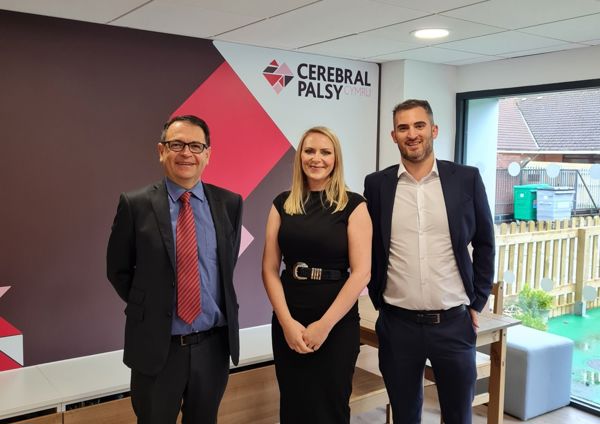 Ken Thomas, Partner at Harding Evans, was delighted to visit our new children's centre alongside his colleagues.
I was hugely impressed by the modern facilities at Cerebral Palsy Cymru's new children's centre, especially the amount of space available for future growth. I am delighted to see Cerebral Palsy Cymru in their new home - our relationship with the charity has spanned over 20 years and it's wonderful to see that the future looks so bright for them, just like their newly painted walls and logo!"
Popular
Upcoming event
Welsh 3 Peaks Challenge

Do something epic in 2023 and take on the Welsh 3 Peaks Challenge in aid of Cerebral Palsy Cymru.  

Therapy and support for children and their families
Cerebral Palsy Cymru is a registered charity in England and Wales 1010183. A company limited by guarantee. Registered company in England and Wales 02691690. Registered address: Cerebral Palsy Cymru, 1 The Courtyard, 73 Ty Glas Avenue, Llanishen, Cardiff, CF14 5DX.