Cardigan Town FC epic 870 mile challenge raises over £10K for Cerebral Palsy Cymru
November 13 2020
Players at Cardigan Town FC ran the distance around Wales, not only once, but twice during the firebreak lockdown to raise vital funds for Cerebral Palsy Cymru!
The idea came about after the news hit that Wales would be entering their second national lockdown of 2020. Player-managers of the club Steve Blackford, Alun Williams and John Curran sat down over a 'cuppa' and decided to do something collectively as a team to make a difference.
"We wanted to do something for Cerebral Palsy Cymru as we know how much they have helped one of our members, James, and his family." said John Curran "We also wanted to do something 'Welsh' so we decided, why not run the distance around Wales collectively as a team?!"
The epic 870 mile charity challenge saw all the players associated with the club pledging to run or walk every day until collectively, they made up a total of 870 miles.
Member of Cardigan Town Football Club, James, has been part of the club since he was in the Junior League and is dad to Jac and Griff. Twins, Jac & Griff, aged 3, both have cerebral palsy. They were born at 28 weeks and weighed just 2lb 6oz each.
When he was just 3 days old, Jac suffered 2 separate bleeds on the brain and at 3 weeks old, his parents Lowri and James were told that there was a strong possibility that Jac would have some form of disability. At 8 months old, Jac was diagnosed with hemiplegia, a type of cerebral palsy, meaning that the right side of his body is affected. He started receiving specialist therapy as part of Cerebral Palsy Cymry's early intervention service, Better Start, Better Future.
It wasn't until Griff was 18 months old and starting to walk that his difficulties came to light. Griff was diagnosed with diplegia, another type of cerebral palsy, which means that his trunk and lower limbs are affected. He also began receiving specialist therapy at Cerebral Palsy Cymru when he was 2 years old.
The initial plan for the fundraising challenge was 870 miles After smashing their target in just 5 days, John and the team behind the fundraiser decided to do it all over again and, after another 4 days of running, they clocked up a total of 1977 miles between them!
The club, with support from family, friends and the local community, went on to raise £10,798 for the charity.
"The club is bouncing with pride!" smiled John "We just couldn't believe it; we were averaging £1,000 a day! We originally set ourselves a target of raising £1,870 as this was the date that our first game of football as a club was played, but we have exceeded all our fundraising expectations and I would like to say a huge thank you to each person who donated to our challenge. The pride and effort from every player and family member to help us reach something we thought was far out of sight was just remarkable. To know that we have made a difference and helped raise this amount of money for such a worthwhile charity makes all the running in the wind and rain worthwhile."
Lowri, Jac and Griff's mum, was delighted with the clubs fundraising efforts.
"The total is incredible and beyond anything we could ever have imagined! We are so lucky to live in the such a community-spirited town that really got behind this fundraiser." She said, "We know first-hand what a charity like Cerebral Palsy Cymru can do and what a difference they can make to a child's quality of life, so to know that this money will go to help other children across the country receive the same support that we have is amazing."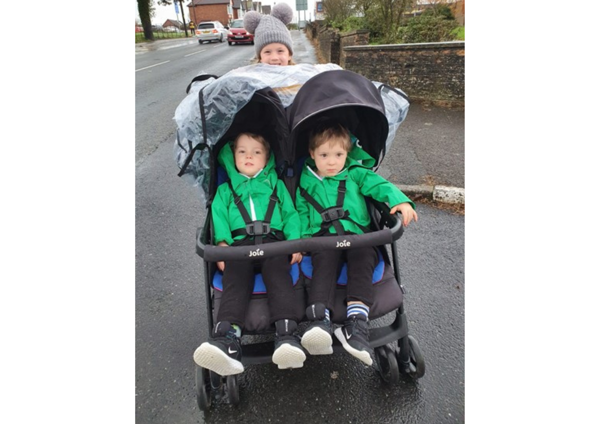 Popular
Upcoming event
Welsh 3 Peaks Challenge

Do something epic in 2023 and take on the Welsh 3 Peaks Challenge in aid of Cerebral Palsy Cymru.  

Therapy and support for children and their families
Cerebral Palsy Cymru is a registered charity in England and Wales 1010183. A company limited by guarantee. Registered company in England and Wales 02691690. Registered address: Cerebral Palsy Cymru, 1 The Courtyard, 73 Ty Glas Avenue, Llanishen, Cardiff, CF14 5DX.