Cake & Tea for CP 2021
August 04 2021
Across the month of June, bakers up and down the country took to their kitchens and whipped up delicious delights in aid of our inaugural Cake & Tea for CP.
We are absolutely thrilled to announce that, together, they raised a whopping £4,498.42!  
Throughout the pandemic, we have been encouraging our supporters to get creative with their fundraising, whether it be at home, or out and about where Welsh Government coronavirus guidelines have allowed. Cake & Tea for CP was a month-long fundraising event that brought families, local communities, and work colleagues together in person and virtually.  
The team at Slater and Gordon lawyers got creative with their cakes by hosting a virtual bake-off on social media. Members of the team took it in turns to bake their most impressive showstopper, post it on social media, and donate £5 via text giving. They then took it in turns to challenge another of their colleagues to create their best-looking bake. Check out some of the showstoppers below!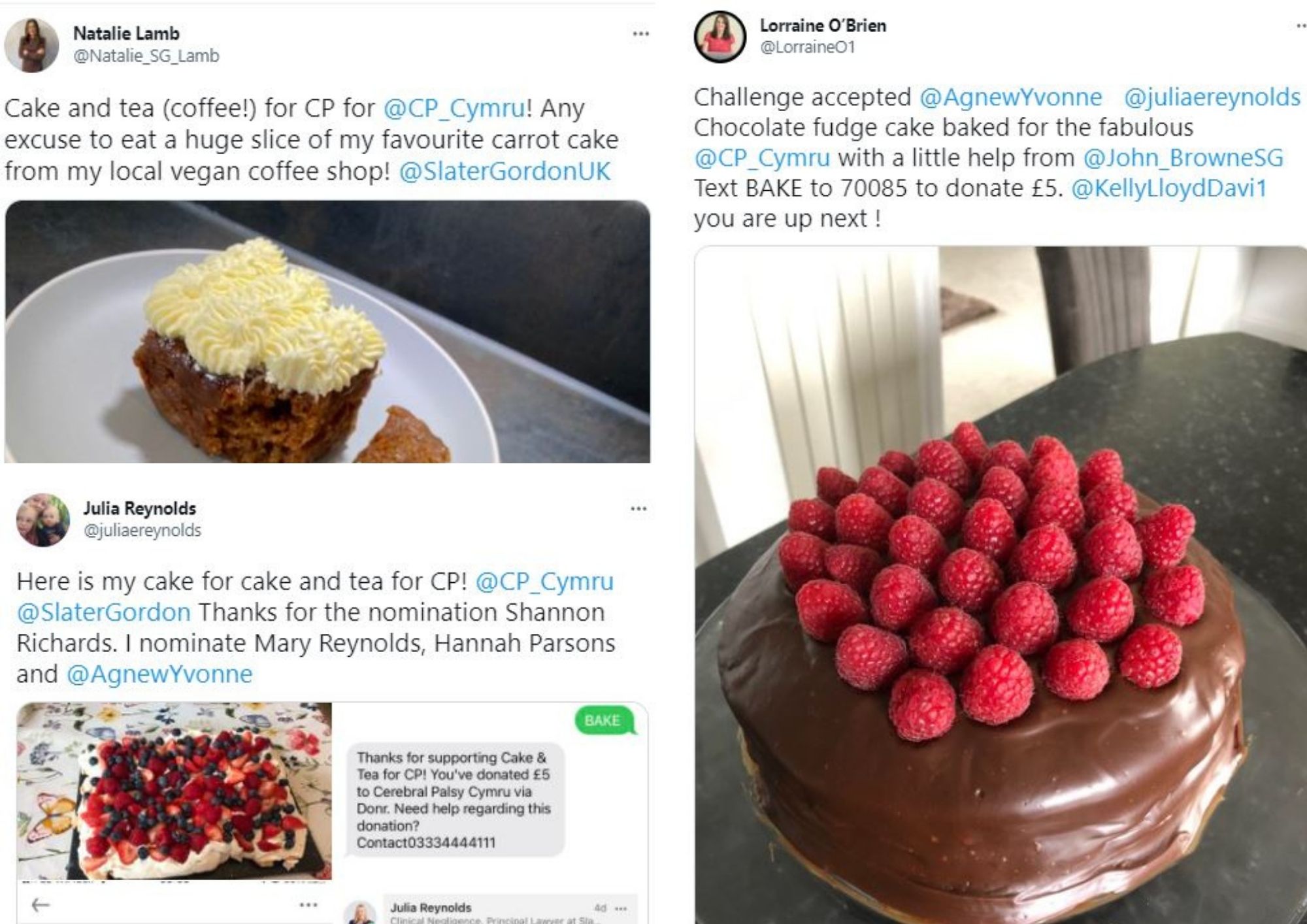 Although restrictions around social gatherings were still in place throughout June, that didn't stop Lexi, aged 6, and her mum Natasha from taking part in Cake & Tea for CP and raising a phenomenal amount of money. Usually, Natasha hires out the nearby village hall and invites her friends, family, and the local community to sample her homemade cakes (we have previously attended several of Natasha's bake sales and we can confirm that her cakes are delicious!)
This year, Natasha and Lexi decided to host a cake sale every Saturday throughout June from their drive. Although at first, she was apprehensive that the turnout wouldn't be good, Natasha and Lexi had an extremely successful run of bake sales across June, which raised £3,006!
"I can't put into words how happy I was with the outcome of our Cake & Tea for CP cake sales. Each week, I would keep a total of how much was raised, but not disclose it to any of my Facebook followers (where we advertised all our fundraising events) until we had a final figure. The amount we raised in just week 1 is what I expected to raise over the 4 events. When we announced our final fundraising amount, I honestly couldn't believe it. All our hard work had paid off and I am so thrilled!"
Lexi even celebrated her sixth birthday party on one Saturday and was delighted when her favourite Disney princess surprised her with a visit to her Cake & Tea for CP sale.
"I enjoyed taking part," said Lexi. "My favourite part was seeing Elsa and helping mammy sell cakes to everybody."
Cake & Tea for CP 2021 was generously sponsored by our friends at St Joseph's Hospital who have kindly adopted us as their charity of the year. As well as sponsoring our inaugural Cake & Tea for CP, they also held bake sales in their canteen throughout June, selling specially themed cakes to their visitors and staff members.  
We look forward to continuing our partnership with St Joseph's and would like to thank them once again for making Cake & Tea for CP 2021 possible.  
If you are feeling inspired by all these delicious cakes and bake sales and would like to do some fundraising of your own to help us make a difference to children and families across Wales living with cerebral palsy, why not visit our 'fundraise for us page' for some ideas to get you started.  
Popular
Upcoming event
Cardiff Half Marathon 2023

Run for team Cerebral Palsy Cymru at the 2023 Cardiff Half Marathon!

Therapy and support for children and their families
Cerebral Palsy Cymru is a registered charity in England and Wales 1010183. A company limited by guarantee. Registered company in England and Wales 02691690. Registered address: Cerebral Palsy Cymru, 1 The Courtyard, 73 Ty Glas Avenue, Llanishen, Cardiff, CF14 5DX.