70k Your Way in March - Rhys' story
April 01 2022
Rhys Kyffin, from Llandudno, decided to take on our '70k Your Way Challenge in March' to raise funds to support children and families across Wales living with cerebral palsy.
At the start of March, Rhys and his support workers set themselves a challenge of completing 70km of activity across 31 days. Since they started, they have totalled a staggering 126km, and they are hoping to double their original target by the end of their challenge. 
Rhys has quadriplegic cerebral palsy, which restricts him to a wheelchair however he doesn't let his disability hold him back. He volunteers as a steward at Venue Cymru and is very passionate about Rugby, especially his local club Llandudno Rugby Club.
Rhys found out about our '70k Your Way Challenge in March' through his support worker, Andre Penfound, who encouraged him to sign up and take part as he knew that Rhys was keen to support a charity that helped children living with cerebral palsy.
"It's my privilege to support Rhys to live an independent and fulfilled life. It also means the world to help him with his fundraising efforts alongside the rest of Rhys' care team. So far, Rhys and his team of 6 support workers have completed a total of 126km and we still have a few days to go until the end of the challenge!"
Rhys and his team have raised £770 in sponsorship to date and are hoping to raise even more in the final few days of their fundraising. Rhys is delighted with the amount he has raised so far! 
"It's fantastic that I can help the children and their families by completing this challenge, and I also think it is important to raise awareness of cerebral palsy. I did a 14km walk around the Great Orme in Llandudno on the weekend, which is an iconic landmark for the area. It makes me feel happy and excited to be helping children who have cerebral palsy."
It also means the world to Rhys to be completing the challenge across March, as it is Cerebral Palsy Awareness Month. He hopes that his fundraising and commitment to conquer his 70k Your Way Challenge will inspire other children and adults across Wales living with cerebral palsy to chase their dreams and not be afraid to challenge themselves.
"Cerebral palsy doesn't define you; you can do whatever you aspire to do, even live in your own home and have a job, but most of all, be happy."
We would like to say a huge thank you to Rhys and his team for taking on this epic challenge in aid of us! We can't wait to see what Rhys' final fundraising total is, and indeed what the total of our '70k Your Way Challenge in March' will be!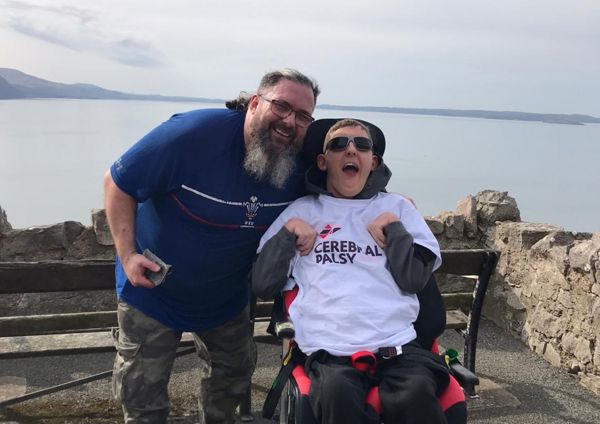 Popular
Upcoming event
Cardiff Half Marathon 2023

Run for team Cerebral Palsy Cymru at the 2023 Cardiff Half Marathon!

Therapy and support for children and their families
Cerebral Palsy Cymru is a registered charity in England and Wales 1010183. A company limited by guarantee. Registered company in England and Wales 02691690. Registered address: Cerebral Palsy Cymru, 1 The Courtyard, 73 Ty Glas Avenue, Llanishen, Cardiff, CF14 5DX.