Virtual attendance at the 32nd Annual Meeting of the European Academy of Childhood Disability
January 22 2021
In November, four of our senior therapists attended the virtual 32nd Annual Meeting of the European Academy for Childhood Disability (EACD).
This is an annual conference that brings health professionals together from across Europe, and further afield, to hear and share the latest world-class knowledge and education in the area of childhood disability. Prior to the global pandemic, the EACD conference was due to be held in Poznan, Poland. However, it was decided that within the current climate, these latest scientific insights were needed now more than ever and instead of postponing the conference, it was moved to an online virtual platform.  
We were thrilled that, once again, Cerebral Palsy Cymru was involved in the conference in several ways.  
Our Centre Director and Consultant Physiotherapist, Jenny Carroll, was a member of the Scientific Committee for the event. This committee was responsible for organising the programme of the conference and ensuring the scientific standards.
Jenny was also part of the Global Professional Education day of the conference where she presented as Curator of the IAACD (International Alliance of Academies of Childhood Disability) Knowledge Hub in the morning and chaired the afternoon presentations exploring the functional application of the International Classification of Functioning Disability and Health (ICF), Resilience and the Life Course approach to cerebral palsy. 
Therapy Manager, Therese Millar, is Treasurer of the EACD and gave the annual financial report, summarising what has happened in the last financial year. As part of the Executive Committee, she also had a full day of meetings, planning the future of the EACD and was moderator in one of the open communication sessions. 
Dr Sally Jary, Consultant Physiotherapist and lead for our early intervention service, and Gosia Jon-Dare, Clinical Specialist Physiotherapist submitted an abstract entitled 'Goal mapping according to ICF-CY core sets to evaluate the trajectory of early family concerns for their infants with cerebral palsy.' This was selected as one of the 115 poster presentation to illustrate some great clinical and research work from across the world. Data was analysed from the collaborative goals set with 50 families by all the therapy team during therapy episodes of care at CPC. 
Sally says, 'Our conclusions were that the collaborative goals we set with families at the start of our blocks of therapy intervention can be categorised using the International Classification of Function (an international classification system) and used to map the different areas of family's concerns. This helps us gain better understanding of family concerns for children of different ages and different GMFCS levels. We were delighted that our work received very positive comments from those attending.'
Sally was also involved in presenting a 2-hour instructional course called 'Ei SMART– a better start for high-risk infants; a transdisciplinary approach to early intervention. This included explaining what Ei SMART looks like in practice for infants at high risk of cerebral palsy.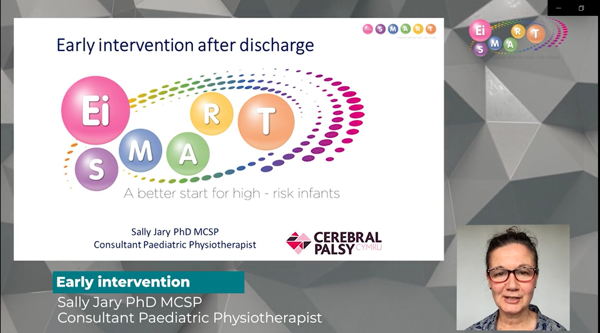 Cerebral Palsy Cymru has a well-established transdisciplinary and family-led service for all our families and Ei SMART has helped finely tune our very early intervention particularly for families who have early concerns about their baby's development, or for infants at high risk of neurodevelopmental difficulties newly discharged from the neonatal unit.   
Sally' presentation illustrated what EiSMART looks like in practice and we are enormously grateful to many of our families receiving our input as a result of our 'Better Start, Better Future' initiative, for their consent to use photographs as examples of them and their children, during both face-to-face sessions as well as remote sessions as a result of the Covid 19 restrictions.  
Attendance at EACD was a great opportunity to share our work in Wales with an international audience and to contribute under our new name and identity, Cerebral Palsy Cymru. 
Popular
Upcoming event
Welsh 3 Peaks Challenge

Do something epic in 2023 and take on the Welsh 3 Peaks Challenge in aid of Cerebral Palsy Cymru.  

Therapy and support for children and their families
Cerebral Palsy Cymru is a registered charity in England and Wales 1010183. A company limited by guarantee. Registered company in England and Wales 02691690. Registered address: Cerebral Palsy Cymru, 1 The Courtyard, 73 Ty Glas Avenue, Llanishen, Cardiff, CF14 5DX.