Delivering a virtual therapy session during lockdown
May 25 2020
Since the closure of our therapy centre on the 23rd March, due to the Coronavirus pandemic, we have been delivering our essential services virtually, via video calls, to families.
This method of delivering virtual services is a new challenge for the charity and our therapy team. Occupational Therapist, Heather Holgate, describes below her experiences of using new virtual methods to deliver therapy sessions, and how it has had some unexpected advantages.
"Just over a month ago, I delivered a virtual therapy session to Verity (aged 1) and her family via a video link.
Verity was first referred to Cerebral Palsy Cymru when she was two months old by the neonatal physiotherapist who was part of the team who had been working with her in hospital. Due to a difficult birth, Verity is at high risk of developing cerebral palsy, which is likely to result in difficulties with her movement and her speech. Verity also has difficulty with eating and receives most of her nutrition through a tube to her stomach. (PEG)
At a previous therapy session at the centre, mum and dad, Lindsey and Steve, had noticed that Verity was getting frustrated when she was on her tummy, possibly because she couldn't move from this position and so felt "stuck." They had wanted to improve her ability to sit and to roll over.
Prior to delivering the virtual therapy session, I had spoken on the telephone to the family and arranged for Lindsey to have some of Verity's favourite toys and a few small items such as a pillow or towel to hand. As Steve often works away from home, it was wonderful that he could be part of Verity's session via video link. In fact what was so wonderful about this particular session was that everyone who was present at the session was in different parts of the UK – Northern Ireland, Cardiff, London and West Wales!
I, and the therapist working with me, set up a play space in our homes and had a large toy doll each with which we could model various therapy positions to Lindsey and Steve. We all dialled into the video session where we met "face to face" for the first time. Lindsey was able to show us how Verity was doing things, we were able to ask questions and make suggestions which Lindsey was able to implement immediately.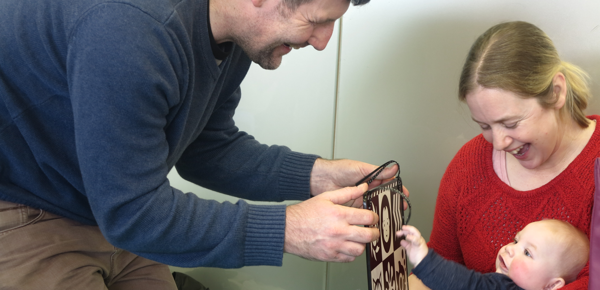 In this virtual therapy session, we reviewed what Steve, Lindsey and the local therapists had been doing with Verity since they last attended the therapy session at Cerebral Palsy Cymru (formally Bobath Wales). It was clear that they had been doing a variety of the activities that they were shown in a previous therapy session – they had all made a big improvement and Verity is almost rolling over now. During the session, we were able to extend the activities that were previously demonstrated to make them more challenging so as to keep up Verity's progress. We also provided some new ideas for play activities for the family to do together throughout lockdown.
Although not ideal, delivering a virtual therapy session most certainly has its advantages - the session takes place in the child's own home where they feel comfortable, they have their own toys to play with and there are fewer "strange" people in the room. 
Another advantage is that Mum and Dad get to do all the playing and handling which means they get more opportunity to try things out with the guidance of the therapist on the screen. Personally, I feel that delivering therapy sessions virtually has resulted in a greater sense of teamwork and suggestions coming from the parents themselves.
Looking forward to the future, we will be continuing to work with Lindsey and Steve to show them how to help Verity to move in and out of positions, building up her core strength as well as reducing her frustration.
A message from Lindsey, Verity's mum:
"When we first heard that CerebralPalsy Cymru would be providing virtual therapy sessions we jumped at the chance as we were desperate for more ways to help Verity progress. I was a little unsure of how the session would go, but once it started I knew we would get another valued session. I would recommend this to all families as it is simple and the therapists are so patient and provide clear instructions and demonstrations as required. It is also beneficial to keep the contact as a confirmation that the things we are doing at home with Verity are correct and will be of benefit to her."
Popular
Upcoming event
Cardiff Half Marathon 2023

Run for team Cerebral Palsy Cymru at the 2023 Cardiff Half Marathon!

Therapy and support for children and their families
Cerebral Palsy Cymru is a registered charity in England and Wales 1010183. A company limited by guarantee. Registered company in England and Wales 02691690. Registered address: Cerebral Palsy Cymru, 1 The Courtyard, 73 Ty Glas Avenue, Llanishen, Cardiff, CF14 5DX.