Our therapy team are all specialists in cerebral palsy. They work closely with you and your local therapy team to help your child reach their potential.
Click on the individual boxes below to read more about our therapy team. 
Jennifer Carroll
MA, MCSP, PGC(HE)
Centre Director – Consultant Physiotherapist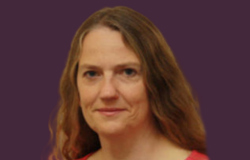 Jenny trained at the Royal Orthopaedic Hospital School of Physiotherapy in Birmingham. She worked in hospitals in Birmingham for several years, where she began specialising in paediatrics, undertaking the CSP Validated Paediatric course and the Bobath Foundation course. Jenny then worked in Milton Keynes and Luton. In these posts, she developed her community paediatric experience and her interest in quality services. Jenny joined the therapy team at Cerebral Palsy Cymru (then Bobath Cymru) in 1998 as Therapy Manager becoming Centre Director in 2006 and a Bobath Tutor in 2009.
Jenny has completed numerous advanced Bobath courses and also trained in Sensory Processing for Adults with Learning Disability, Sensory Integration and Children with Cerebral Palsy and Prechtl's Method of Qualitative Assessment of General Movements and EI SMART. Jenny completed an MA in management studies in 2000, a Post Graduate Certificate in Postural Management for People with Complex Disabilities in 2003, and a Post Graduate Certificate in Higher Education in 2013. She regularly attends international conferences pertaining to cerebral palsy to ensure the centre stays at the forefront of practice.
Working in an area with insufficient clinical evidence, Jenny has always championed measuring of individual interventions and services. This has led her to become knowledgeable in Goal Setting and Goal Attainment Scaling. The centre has become internationally known for this work and it has been presented nationally and internationally.
Jenny regularly teaches and is part of the International Alliance of Academies of Childhood Disability (IAACD), Global Professional Education Committee. In this role, she has taught with an international team the fundamental concepts in childhood disability. She has also been key in developing and managing the IAACD Knowledge Hub which provides free access to educational materials for professionals from across the globe.
Jenny is co-leader of the Cerebral Palsy Register for Wales.
Rina (Catharina) Van der Walt
RCSLT, Bobath Consultant Speech and Language Therapist and Lead for Clinical Effectiveness
Senior Bobath Tutor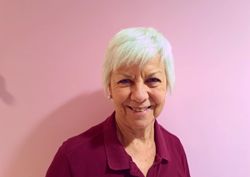 RCSLT, Bobath Consultant Speech and Language Therapist and Lead for Clinical Effectiveness; Senior Bobath Tutor

Rina qualified as a Speech and Language Therapist and Audiologist at the University of Pretoria, South Africa. She worked as a Speech and Language Therapist in South Africa at a Special School for children with cerebral palsy for 17 years. Rina then worked with children and adults with congenital and acquired neurological conditions and also voice disorders in Private Practice in South Africa for several years. Rina was a Senior Lecturer at two Universities in Cape Town, after which she moved away from South Africa to work as a Senior Speech and Language Therapist at Mullingar General Hospital in the Republic of Ireland. Rina was Head of Therapy at Cerebral Palsy Scotland from 2008 to March 2014 and joined the therapy team at Cerebral Palsy Cymru in November 2014. Rina qualified as Senior Bobath Speech Therapy Tutor in 1990. She regularly teaches on Bobath basic and advanced courses and is involved in other teachings within and outside the Centre. She has attended various advanced Bobath courses and professional development opportunities relevant to paediatric neurology and specifically cerebral palsy. Courses attended in the past include - SOS (Sequential Oral Sensory) Approach to Feeding program; Basic and advanced Dysphagia (eating & drinking); Mary Massery Breathing Course; Introduction to PROMPT; Augmentative and Alternative Communication; Myofascial Release; Deep Pharyngeal Neuromuscular Stimulation, amongst others. Rina has also undertaken various training in Research Methodology & Professional Writing. She completed the Diploma in Special Education at the University of South Africa and holds a Master's degree in Communication Pathology from Delaware University, USA and University of Pretoria, South Africa. Rina is one of the two representatives for Wales for the British Academy of Childhood Disability; is a member of a Dysphagia Special Interest Group in Wales; a member of the national tutor organisation of the European Bobath Tutors Association; and serves on the Education Committee of the South African Neurodevelopmental Therapy Association. Rina is active in attending and presenting poster and oral papers at national and international conferences.     
Dawn Forbes
MCSP Bobath Clinical Expert Physiotherapist
Lead for Clinical Effectiveness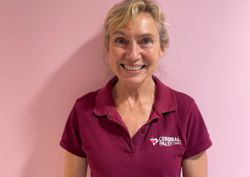 Dawn graduated from Cardiff University Hospital of Wales in 1983 and worked in the NHS for eleven years initially specialising in adult neurology after which she expanded her practice to include paediatric neurology. Dawn then worked in Kenya, teaching and treating children and adults from all backgrounds with neurological conditions.
Currently, Dawn is lead for clinical effectiveness at Cerebral Palsy Cymru ensuring the whole centre, as well as individuals, are measured, monitored and working effectively to deliver a family-centred service. Dawn introduced the Programme Logic Model for strategic service planning and review and this has formed the basis of Cerebral Palsy Cymru's clinical effectiveness programme.
Dawn has been key in driving and monitoring the centre in its ethos of delivering Family Centred Care, as well as the use of Goal Attainment Scaling in conjunction with the International Classification of Functioning (ICF). Together these have been used to inform, guide and measure therapeutic interventions at Cerebral Palsy Cymru and evaluate the effectiveness of the Centre. She also initiated the use of Patient Stories and values the specific insight these provide into the patient's perspective in order to guide service quality. Dawn is a proponent for using these tools to influence the delivery of complex transdisciplinary services.
Dawn is an honorary tutor at Cardiff University and takes part in teaching activities within and outside of Cerebral Palsy Cymru. She has also presented at several national and international conferences. 
Heather Holgate
BSc (OT) MRCOT Occupational Therapist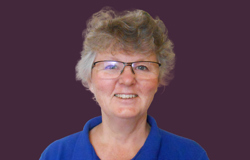 Heather qualified as an Occupational Therapist in 1988 at the University of Cape Town, South Africa.  From the outset of her career, Heather worked with children and specifically children who have cerebral palsy.  She has worked in special schools as well as in the community and private practice.  Heather completed her Bobath Foundation course in 1990 in Bloemfontein, South Africa.  Shortly after this, she moved to the UK to gain further experience and training in the field. Heather was delighted to gain the opportunity to work at Cerebral Palsy Cymru, where she joined the team as one of the first therapists in 1994. Heather subsequently moved to the Bobath Centre in London to complete her tutor training; she qualified as a Bobath Tutor in 2000 and Senior Tutor in 2008. She has taught on a number of Bobath foundation, refresher and advanced courses over the years as well as workshops on a variety of topics.  
Heather enjoys sharing her knowledge and experience with families and therapists and she has had opportunities to travel extensively while doing so; including to Zambia, Malawi, South Africa, Japan, Belgium and Finland.    
Heather has served on the Executive Committee of the European Bobath Tutors Association since 2000, a role which brings her in contact with Bobath therapists from across the world.   
Gosia Jon-Dare
MSc MCSP
Clinical Specialist Physiotherapist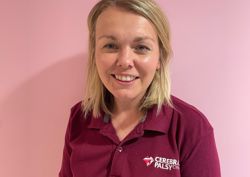 Gosia graduated with an MSc degree in Physiotherapy from University in Wroclaw, Poland in 2005, and she permanently moved to the UK later that year. She gained experience working with adults and children with neurological conditions in both acute and community settings across Wales and Southwest England, before joining the team at Cerebral Palsy Cymru in 2011.
Gosia is the strategic lead for the Better Start, Better Future early intervention service and has a particular interest in early detection and intervention for infants who are at high risk of delayed neurodevelopment and cerebral palsy. Gosia works closely with Glenys delivering the initial consultations for babies who are referred to our service and co-runs the Better Start Together monthly playgroup, which provides an opportunity for families to meet each other. As part of her role Gosia is also involved in organising and delivering the EiSMART Infant Course, an internationally recognised course in early intervention.
Gosia's clinical training includes Advanced Prechtl's General Movement Assessment, Newborn Behavioural Observations (NBO) and the Mini-AHA assessment. She currently undertakes further master's studies in Neonatology at University of Southampton.
Gosia has presented her work at international and national conferences. She is a member of the British Association of Perinatal Medicine (BAPM) and Neonatal Neurodevelopmental Follow up (BANNFU), and the Early Intervention special interest group within the European Academy of Childhood Disability (EACD).
Marissa Mount
MSc MRCOT Bobath Therapist
Occupational Therapist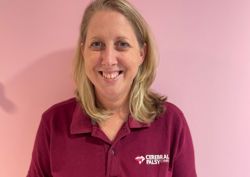 Marissa qualified as an Occupational Therapist in 1998 from Coventry University. Following graduation, she specialised in paediatrics whilst working for Leicestershire Community Children's Service. Marissa then worked in the Midlands and in Australia before joining Cerebral Palsy Cymru in 2007. Marissa completed her MSc in Neuro-rehabilitation at Cardiff University in 2013 with her research focusing on 'bimanual upper limb function in children with hemiplegic cerebral palsy'. She has since worked with Breathe Arts Health Research to host the 'Breath Magic programme' at the centre and also developed and now run the 'Jungle Explorers programme', which is an intensive programme for children with hemiplegia which aims to incorporate constraint-induced movement therapy and intensive bimanual therapy. Marissa also completed the 'Sensory babies' course in 2017 and 'Early Assessment and Intervention with babies and children' course in 2018 and is involved in the Better Start, Better Future early intervention service, including carrying out initial consultations and co-organising the 'Better Start Together' playgroup. She has attended and presented at national and international conferences, and been involved in teaching within and outside of the Centre.
Helen Burnford
RCSLT Bobath Therapist
Speech and Language Therapist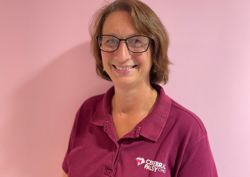 Helen qualified in 1994 as a Speech and Language Therapist from DeMontfort University in Leicester. Following graduation she worked in England in both NHS and education settings, specializing in working with children with physical disability and learning difficulties. She moved to Wales in 2002 and continued to work within the NHS with a variety of paediatric client groups in Special Schools and Children's Centres across South Wales.
Helen completed her Bobath 8 week foundation course in 2011. She has continued to update her knowledge and skills base in working with children with CP; most recently completing PROMPT training (for speech), and Bobath Early Assessment and Intervention with Babies and Young Children in 2018.  Helen is a member of BABTT committee as editor of BABTT newsletter.
Kirsty Taylor
MCSP Bobath Therapist
Physiotherapist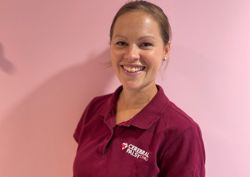 Kirsty trained as a physiotherapist in Cardiff University, graduating with a First Class Honours in 2010. She was keen to specialise in Paediatrics and commenced her employment as a Paediatric Physiotherapist in Cardiff and Vale University Health Board. She worked in the Noah's Ark Children's Hospital for Wales, doing rotations in trauma and orthopaedics, neurology and oncology, and respiratory. She also did community rotations, managing varied caseloads in the children's centres, mainstream schools and schools for children with additional learning disabilities. Kirsty trained as a clinical educator and supervised several physiotherapy students. She undertook paediatric respiratory emergency duty and was a Paediatric and Adult BLS Cascade Trainer. Kirsty is a member of the APCP and has attended various study days and courses, relevant to her work. For example, she completed Posture Management for Adults and Children with Complex Disabilities in 2014, the Assisting Hand Assessment Course in March 2018 and the Early Intervention Course in May 2018. Kirsty joined the team at Cerebral Palsy Cymru in June 2015. She completed the Bobath Introductory Course in 2012 and the Bobath Foundation Course in November 2015.    
Clare Dunning
MCSP Bobath Therapist
Physiotherapist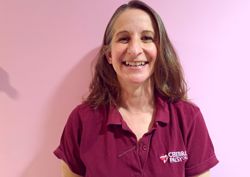 Clare trained as a physiotherapist in Bath School of Physiotherapy and graduated in 1997.  After working as a rotational physiotherapist in Wales, she continued her physiotherapy experience in Australia for a year.  When Clare returned to the UK, she specialised in Paediatrics and worked in a children's centre and large teaching hospital in London, where she also undertook her 8 week Bobath Foundation Course in 2005. Clare then returned to South Wales to work with children in the community setting, including in mainstream and special schools as well as training as a physiotherapy student clinical educator and supervisor. Clare is a member of the APCP and continues her professional development by attending relevant courses and conferences. Clare was delighted to join the therapy team at Cerebral Palsy Cymru in June 2016.
Helena Poulton
MSc Bobath Therapist
Occupational Therapist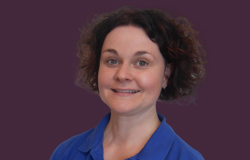 Helena joined Cerebral Palsy Cymru in September 2019 after working for 14 years in the NHS within community paediatrics with a clinical specialism role related to children with neurodisability for the last 5 years. Helena has a specialist interest regarding postural management and in particular specialist seating which formed the basis of her MSc in Occupation and Health in 2012 and as a result of this has lectured at universities and regional and national conferences on her findings and knowledge in this area. Helena is a passionate OT who looks forward to using and developing her skills within the expertise and opportunities offered within Cerebral Palsy Cymru. She looks forward to continuing to facilitate activity and participation for the children and families she is privileged to work with.
Suzie Shanahan
MCSP Bobath Therapist
Physiotherapist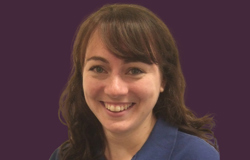 Suzie graduated from the University of Southampton in 2008 and started her career in Norfolk as a rotational physiotherapist treating adults and children before specialising in paediatrics working at the Newberry Clinic and The Warren special needs school. Suzie travelled to Auckland, New Zealand in 2012 and worked in the acute sector at Middlemore Hospital treating adults with respiratory disorders, burns and spinal cord injuries and acute neurological events. In 2013 Suzie transitioned back to community paediatric care within Starship Community and worked for 5 years with children aged 0-5 years with a range of conditions including developmental delay, physical and learning disabilities. On returning to the UK in 2017, Suzie continued working within paediatrics spending 2 years working for Cardiff and Vale University Health Board at the Noah's Ark Children's hospital. Keen to continue her passion working with neurological disorders, Suzie joined Cerebral Palsy Cymru in October 2019. Suzie is a member of the Regional APCP Committee for Wales.  Outside of her role at Cerebral Palsy Cymru, Suzie is a Certified Infant Massage Instructor. Suzie has experience in hydrotherapy for neurological injury, gait analysis, 24-hour postural management, neurorehabilitation including intervention following Botox and acute surgical procedures and has completed Sensory Integration module 1.
Glenys Evans
Family Support Coordinator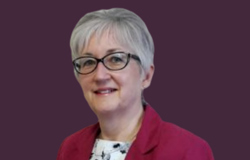 Glenys is the first point of contact for baby referrals to our Better Start, Better Future early intervention service. Glenys, along with one of our senior therapists provides an initial consultation appointment with parents to assess the needs of the baby and address any concerns parents may have. Glenys also provides a Family Support service for parents and family members where they can have a more informal chat over coffee; are able to ask questions about cerebral palsy, discuss their concerns and have some early support. From a personal/parental point of view, Glenys can give support for the often uncertain and difficult situations parents may find themselves in. Glenys meets with families each time they return to the centre enabling her to build a relationship with the family and child providing appropriate and on-going support to the whole family.
Glenys is a founder parent of Cerebral Palsy Cymru (formerly known as Bobath Children's Therapy Centre Wales) and has been involved with the charity since 1989 in numerous roles including secretary to the steering committee, trustee, and volunteer, eventually joining the staff team in 1998. Glenys' son Thomas who has cerebral palsy is now an adult in his 30's but this means she has a wealth of knowledge and understanding to share with families who attend the centre.

Therapy and support for children and their families
Cerebral Palsy Cymru is a registered charity in England and Wales 1010183. A company limited by guarantee. Registered company in England and Wales 02691690. Registered address: Cerebral Palsy Cymru, 1 The Courtyard, 73 Ty Glas Avenue, Llanishen, Cardiff, CF14 5DX.