Make a special gift this Christmas by supporting our Christmas Appeal 2021.
Every six hours, a baby is born in the UK who will have cerebral palsy. In the past year alone, we have had 63 new babies referred to our services so far. We are currently facing an unprecedented demand for our services, and we need your support now more than ever. 
This Christmas, we know that there will be babies born across Wales who will have, or be at risk of having, cerebral palsy, and there will be families in hospitals across the country who will be facing a similar Christmas to Sharon's first Christmas as a mum. This is Sharon's story. 
"I remember our first Christmas with Grace like it was yesterday.
We were so overwhelmed with different emotions; pure joy that our beautiful daughter was here alive and stable, albeit in the High Dependency Unit (HDU) at Singleton Hospital, mixed with the fear of constantly watching the monitor, hanging on to every beep, with any slight change sending us into a panic.
Also, the desperation of just wanting to hear the word 'home' from the consultants. There was a physical gut-wrenching pain inside like we've never experienced before, of having to go home every night without our baby girl. We were both in tears every day on our way into the hospital, feeling frightened that something may have happened overnight.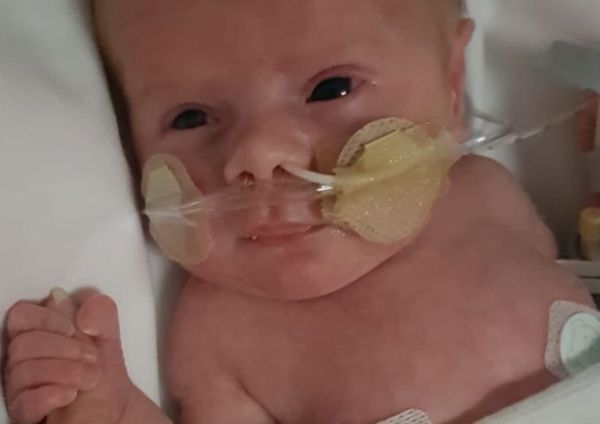 I also remember the complete admiration I felt that our beautiful little baby girl was fighting everything that was thrown her way.
The only time that all these scary emotions eased for us was when we shared skin-to-skin contact with Grace. In those moments we felt a sense of calm. Who knew a cuddle with your precious little one could take all those worries away.
We made that first Christmas as special as we possibly could for Grace with the help of the wonderful staff at the Newborn Intensive Care Unit (NICU). We already knew at that point that there would be challenges ahead, as the first MRI results showed an extensive bleed on her brain. Our main focus was keeping Grace seizure-free and stable enough in the hope that we could eventually bring her home. 
Whilst at the NICU, our Occupational Therapist told us about Cerebral Palsy Cymru and the work they do to help babies who are suspected of having cerebral palsy through their early intervention programme 'Better Start, Better Future', and she asked if we would be interested in referring Grace to their service.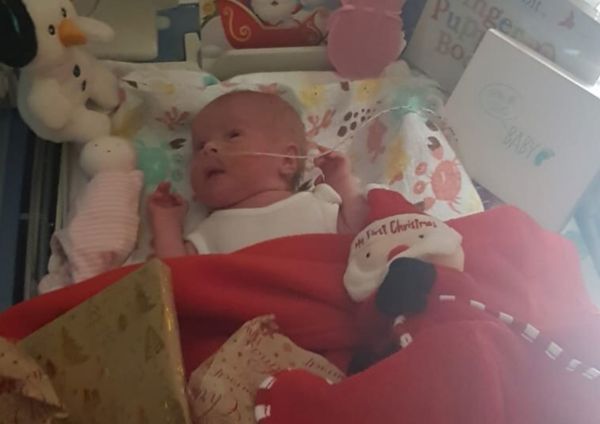 Since that first session with Cerebral Palsy Cymru, we have said yes to all the support and therapy that we have been offered and I can honestly say it has been life-changing for Grace and for us as a family.
Over the past two years, the team have continued to support us and Grace since that very first initial consultation, even throughout the pandemic with both virtual and face-to-face sessions, as well as supporting us as a family unit through their Family Support Service, which has been a complete blessing for us. In those early days, I used to wake in the middle of the night filled with so much worry and anxiety and frantically send an email to Glenys, the Family Support Coordinator. The next morning, I would receive a reassuring call from her to explain that what I was feeling was completely normal, it was ok to be feeling the way I did and, most importantly, we were not alone.
Christmas this year looks so much brighter than we could have ever imagined.
On the 23rd of September this year, Grace took her first steps completely unaided - never in our wildest dreams did we dare to even think this could happen. Our little miracle has been so determined throughout everything, even when her therapy sessions have been so intense, she's just kept going. From a grade 4 bleed to being diagnosed with full-body cerebral palsy, nothing has stopped her from being the most determined, strong-willed, very independent, beautiful, amazing, inspiring, and loving little girl that she is today. Thanks to the support from the team at Cerebral Palsy Cymru, we know that as a family we can work together to continue to build a more positive and bright future for Grace.
Thank you in advance for supporting Cerebral Palsy Cymru's Christmas Appeal  - Sharon, Kay and Grace."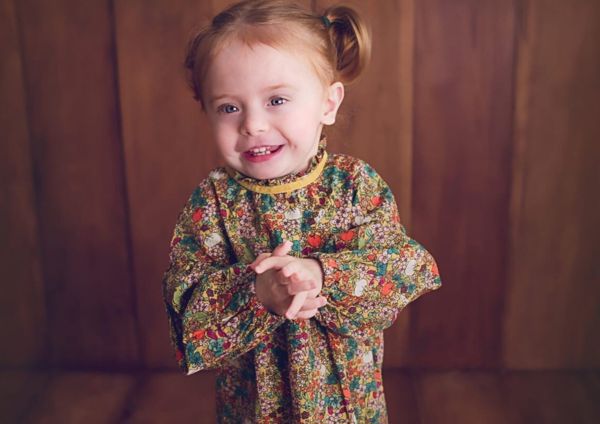 By making a Christmas gift, you can help us be there for families this Christmas who will be referring their babies to our services. With your help, we can give them the best possible start in life and help support their families through what will be an uncertain and difficult time.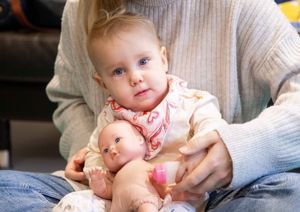 Make a one-off Christmas gift
Make a donation this Christmas to help us support families across Wales, like Sharon and Grace.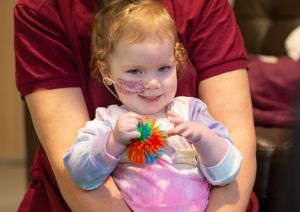 Set up a regular-gift
You can support us all year long by setting up a regular gift. Regular gifts provide us with a steady income that we can rely on, and which helps us plan for the future.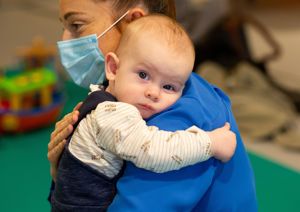 Find out more about our early intervention service
Our early intervention service, 'Better Start, Better Future', helps children like Grace get the best start in life. 
How we have helped in Wales
110
Family support appointments took place in 2018-19
286
Children from across Wales have been treated during 2018-19
1,682
The number of sessions of specialist therapy we delivered in 2018-19

Therapy and support for children and their families
Cerebral Palsy Cymru is a registered charity in England and Wales 1010183. A company limited by guarantee. Registered company in England and Wales 02691690. Registered address: Cerebral Palsy Cymru, 1 The Courtyard, Ty Glas Avenue, Llanishen, Cardiff, CF14 5DX.